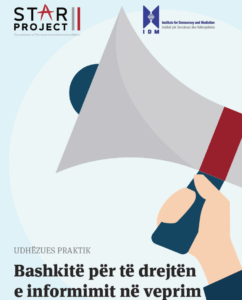 October 2018 – This Toolkit aims to respond to the emergent need for knowledge and skills of the country's municipalities that would provide information and communicate with various community groups and other stakeholders.
In this context, the Institute for Democracy and Mediation (IDM), in the frame of the project "Consolidation of Territorial and Administrative Reform – STAR 2, organized a three day Training Program with the participation of 25 Right to Information Coordinators of several municipalities in Albania. The non-formal learning training "Municipalities on the Right to Information in Action" was held on 12-14 September 2018 with the aim to improve the Coordinators' skills in raising citizens' awareness and promoting transparency and accountability to the public and interest groups.
Specifically, this toolkit is drafted at a time when the municipalities are provided with a standard Model of the Transparency Program for Local Government Units – in accordance with Law No.119 / 2014 "On the Right to Information" and adapted to the context of the local self-government and municipalities' mission, duties, functions and competences.
Click to download (Alb. only):Download