Can youth be heard from the screen?
The perspective of the Albanian youth on the online space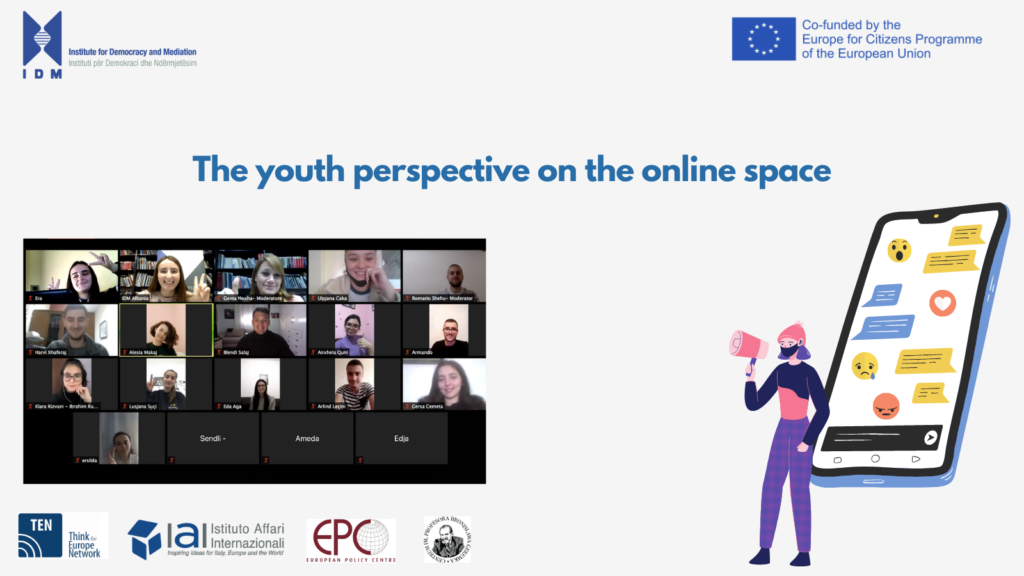 18 November 2020 – In the framework of the "Make Future Together: EU and the Western Balkans from the Youth Perspective" project, the Institute for Democracy and Mediation (IDM) organised a consultation with youth participants from Albania to create a fuller understanding of the role that social media have in promoting greater social and political engagement of young people by contributing to future policy-making on this issue.
Part of this youth consultation were 17 participants aged between 18 to 24 years old, coming from various geographical areas of Albania.
During the discussion, the young participants stated that they spend almost 85% of their time daily using the internet, by emphasising that due to the COVID-19 pandemic they have started using even more frequently online platforms than they used to do before.
Reflecting on the positive and negative sides of the internet, the participants noted that the internet provides massive information and various opportunities to do business and gain profit. While on the other hand, the internet can create dependency and cause serious harms because of cyberbullying and cyberattacks.
The young participants presented various ideas regarding the reduction of the negative sides of the internet and how to preserve the positive sides of it. Among the three most voted activities were the creation of a regulatory bod, to toughen measures against violators, and increase the level of education and awareness of citizens, including the creation and launching of awareness campaigns for media literacy.
From the discussion with the young participants, regardless of their statement that state agencies are responsible for ensuring the safety of their citizens, it resulted that they trusted international organisations instead of public institutions to implement their proposed activities.
Ulpjana Caka, Harvi Xhaferaj, and Era Tafa were the youth participants who presented the findings from this consultation in a panel discussion with experts in the field.
This event is part of the project "Make Future Together: EU and the Western Balkans from the Youth Perspective" implemented by a network of think tanks from 6 countries in the region Think for Europe Network – TEN) together with the International Affairs Institute in Rome, the Bronislaw Geremek Foundation in Warsaw and the European Policy Centre (EPC) in Brussels. The project is funded by the Education, Audiovisual and Culture Executive Agency (EACEA) through the Europe for Citizens program.