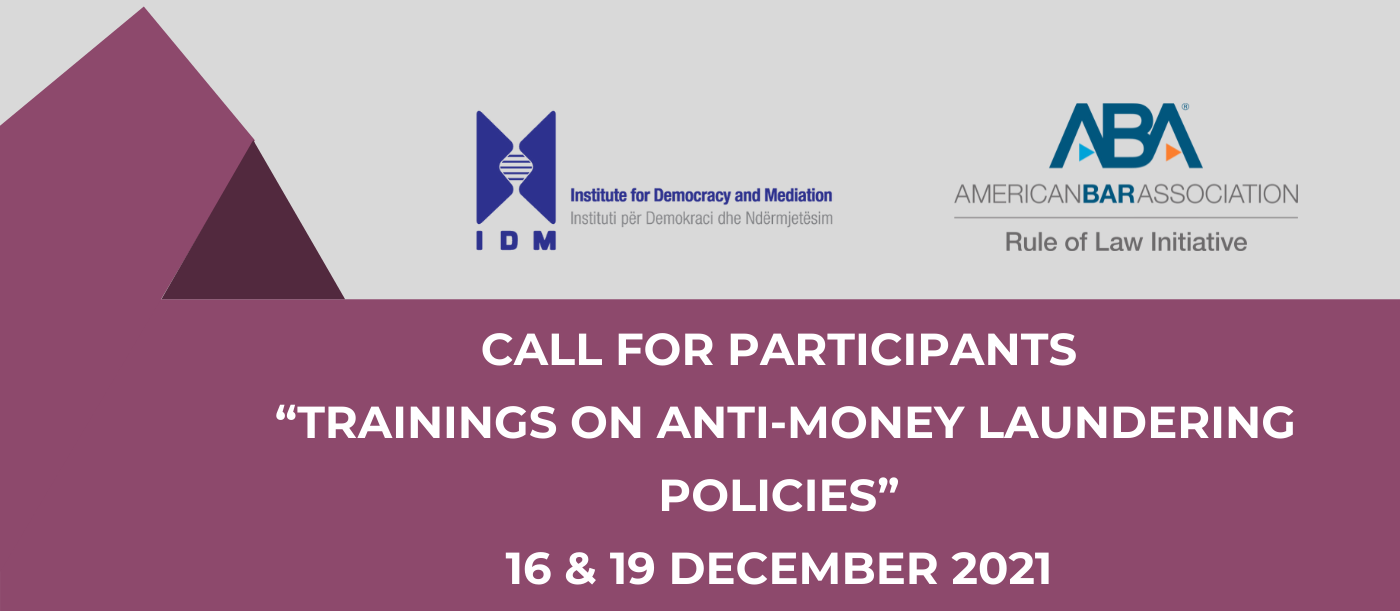 CALL FOR PARTICIPANTS: "TRAININGS ON ANTI-MONEY LAUNDERING POLICIES"
The Institute for Democracy and Mediation is organizing a series of one-day trainings on anti-money laundering policies (AML/CFT) with representatives of civil society organisations. The first two trainings will be held on the 16th and 21st of December, from 9:00 – 16:00, at the Tirana International Hotel, Blue Room, with 20 representatives of CSOs based in Tirana.
The trainings will address the legislative and institutional framework in Albania, obligations of civil society organizations under AML legislation, and adherence to specific Financial Action Task Force (FATF) recommendations.
Upon completion of the trainings, the participants will be equipped with a certificate of attendance, provided by the American Bar Association – Rule of Law Initiative and the Institute for Democracy and Mediation.
Prior registration is required due to the limited number of participants. Please use the following link to complete the registration and indicate your preferred date on the registration form. The registration deadline is 14th of December 2021.
https://forms.gle/8cwsqRskFdZAzn7p6
The training sessions are held in the framework of the project "Supporting the Fight against Money Laundering in Albania", implemented by the Institute for Democracy and Mediation with the support of the Department of State of the U.S.A through the American Bar Association – Rule of Law Initiative.
For further information, please contact Daniel Prroni: [email protected]
*The activity will be organized in full compliance with the national health and safety protocols regarding the Covid-19 pandemic.