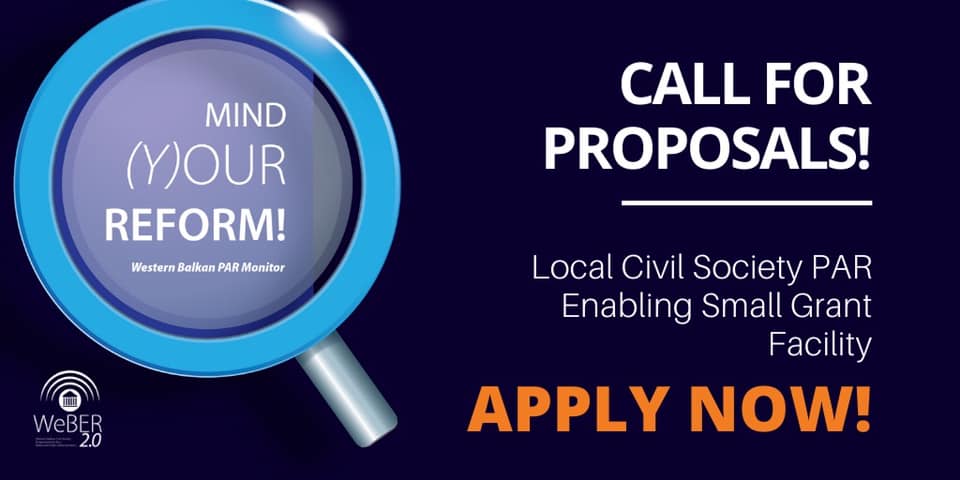 WeBER 2.0 – Western Balkan Civil Society Empowerment for a Reformed Public Administration is seeking project proposals for the implementation of the Small Grant Facility for support to civil society monitoring of public administration reform at local level.
The Call for proposals is in the total amount of 225.000 EUR intended to support up to 30 grants, each worth up to 8000 EUR (7500 EUR on average), out of which 6 in Serbia, 6 in BiH, 5 in Albania, 5 in North Macedonia, 4 in Kosovo, and 4 in Montenegro. Duration of the awarded grants is between 6 and 12 months. WeBER 2.0 project is financed by the European Union (EU).
The complete Call for Proposals and all relevant documents are available for download below:
CONTACT INFORMATION
Proposals: Applicants should submit their proposal and required documents via e-mail to [email protected]  CC: [email protected] (Project and Grant Manager).
Subject of the e-mail must be: "CfP #Weber-G-02: (country)_ Application" (e.g. "CfP #Weber-G-02: Albania_ Application").
Application Form: To download the application form, please see the CfP announcement at:  www.par-monitor.org. Alternatively, please contact the Project and Grant Manager –Jovana Knezevic, at [email protected] for an application form.
Deadline for submitting the applications is 1 November 2020. Confirmation mail upon receival of application will be sent.
Clarification questions may be sent by e-mail no later than 1 October 2020 to the e-mail address: [email protected]. Subject of the e-mail must be: "CfP #Weber-G-02: (country)_ Clarification questions".
The Project and Grant Manager has no obligation to provide clarifications to questions received after this date. Clarifications will be published at www.par-monitor.org no later than 15 October 2020.
Click to read the Q&A on the application process.