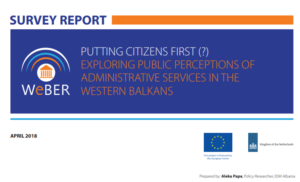 April 2018 – Governments across the Western Balkans have made efforts towards improving service delivery; however, they are still unable to meet their citizens' expectations of more accessible, transparent and responsive services. Part of the problem is that governments continue to typically design and offer
services on the basis of their own requirements instead of taking into account the perspectives and needs of the citizens they serve.
This report draws on a regional survey of 6172 respondents from Western Balkans aged 18 and older, surveyed in the second half of October and during November 2017 by using stratified three-stage random representative sampling. Its main aim was to explore perceptions towards the implementation of a citizen-oriented delivery of administrative services using the years 2015-2017 as a reference period. The main survey results are analysed in four clusters: administrative simplification, e-services, feedback mechanisms of service delivery, and monitoring.
The survey report can be accessed here.
This survey report was originally published on http://www.par-monitor.org/  in the framework of the WeBER project (Western Balkans Enabling Project for Civil Society Monitoring of Public Administration Reform) funded by the European Union and co-funded by the Kingdom of The Netherlands.