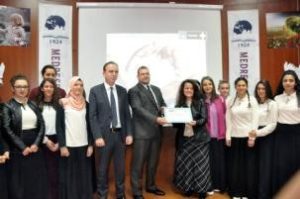 Through Project Citizen the project "Understanding Civic and Faith-Based Education in Albania" has made an important contribution in promoting and fostering civic values and participation, religious tolerance and understanding. It has also encouraged and supported concrete efforts to establish cooperation between local stakeholders, including public and non-public educational institutions, religious communities, local authorities, civil society, media, etc.
For the year 2017 the project has engaged more than 2000 students from different religious community non-public high schools working together to address different problems in their communities. These schools include:
"H.M. Dashi" Madrassa in Tirana
" Sh. Shamia" Madrassa in Shkodra
"M. Varoshi" Madrassa in Durrës
"Liria" Madrassa in Elbasan
"Hafiz Ali Korça" Madrassa of Kavaja
Madrassa of Korça
"Vexhi Buharaja" Madrassa of Berat
"Protagonisti" non-public high school of Orthodox CommunityTirana
"Pjetër Mëshkalla" high school of Catholic Community, Shkodra
An important part of this project for 2017 are also more than 2000 students from 24 public high schools from 8 cities in Albania working in the framework of "Project Citizen against Corruption".
The list includes the following schools:
In Shkodra: "Shenjanze Juka", "Oso Kuka", "28 Nentori", "Jordan Misja"
In Kukës: "Havzi Nela"
In Elbasan: "Vasil Kamami", "Dhaskal Todri", "Kostandin Kristoforidhi", "Ahmet Dakli", "Mahir Domi", "Luigj Gurakuqi"
I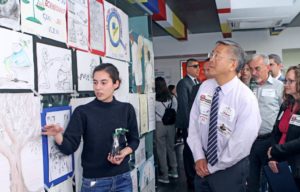 n Berat: "Kristaq Capo", "Babe Dud Karbunara", 
In Vlora: "Gjimnazi i Ri", "Mustafa Qemal Ataturk", "Ali Demi", "Halim Xhelo", "Jani Minga"
In Tirana: "Petro Nini Luarasi", "Qemal Stafa" dhe "Myslym Keta"
In Lezha: "Hydajet Lezha" and
In Gjirokastra: "Asim Zeneli" "Siri Shapllo"
This year the "Integrity Clubs" gained a stronger role and take ownership in the trainings and planning and implementation of schools/community based activities.
The novelty of "Project Citizen against Corruption 2017" is embedded in the design and launching of an online platform "check my school" (www.shkollaime.net ) social accountability means that is based on the open data approach to make the schools performance more transparent and accountable to the community.
To read more download the full report: 2017 SEMI-ANNUAL REPORT CIVIC EDUCATION PROJECT