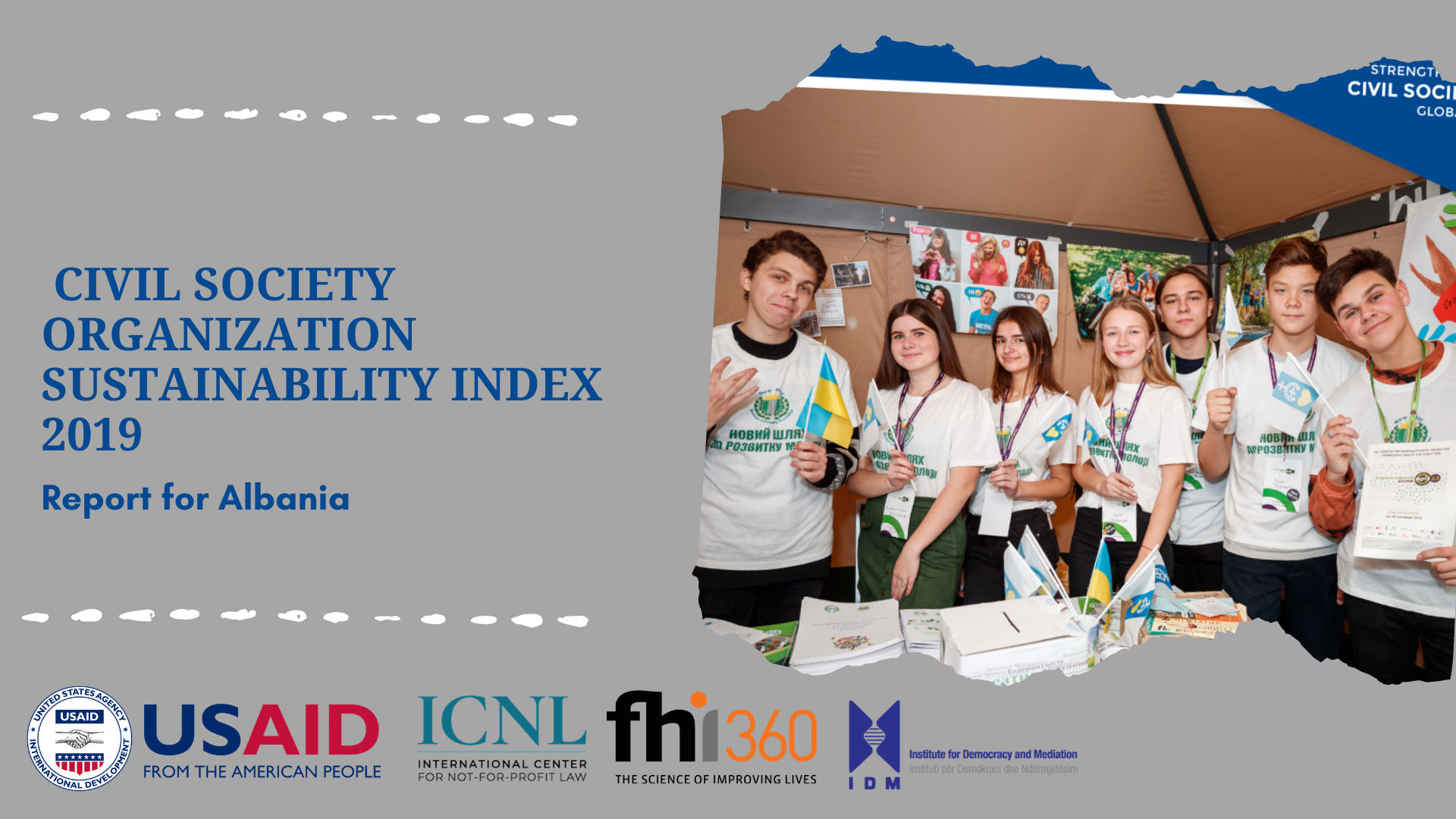 The overall sustainability of the civil society sector did not change significantly in 2019, although slight improvements were noted in organizational capacity, service provision and sectoral infrastructure dimensions.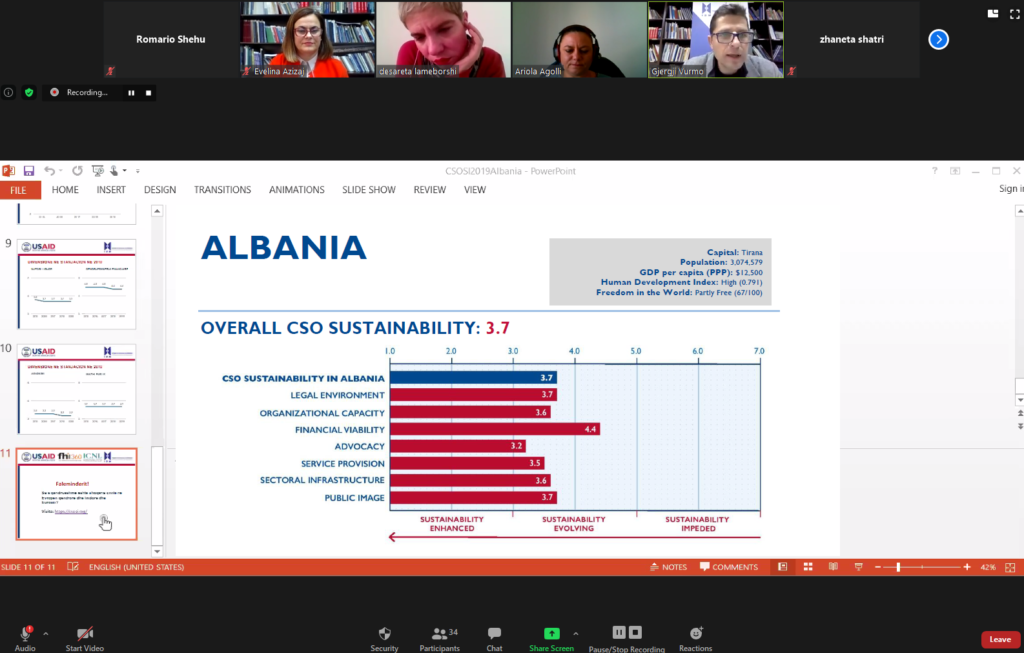 Tirana, November 19, 2020 – The Institute for Democracy and Mediation (IDM) organized an online launching event of the findings of USAID CSO Sustainability Index (CSOSI) 2019 for Albania. The 2019 CSOSI for Albania is part of the twenty third edition of the CSOSI for Central and Eastern Europe and Eurasia, monitoring key aspects of sustainability in the CSO sector. Nearly 35 participants from the civil society, donor community, public institutions and media representatives joined the meeting and discussed the sustainability trends in the CSO sector.
The authors of the report presented key findings for Albania highlighting that the overall sustainability of the Albanian civil society sector did not change in 2019, although slight improvements were made in several dimensions of CSO sustainability. The main report's findings include:
Organizational capacity improved slightly in 201 9 as a result of donor programs focused on capacity building over the past few years,
The launch of the National Resource Center for Civil Society in Albania boosted the sectoral infrastructure.
Service provision improved slightly in 2019, as CSOs mobilized quickly to meet the needs of populations affected by the earthquake in November;
CSOs continued to exhibit strong advocacy as they actively engaged in important initiatives and demonstrated persistence in the pursuit of their missions.
Financial viability continues to be the weakest dimension of sustainability. This dimension continued to be marked by a lack of funding, especially for smaller CSOs, and a lack of diversity in funding modalities.
Both dimensions legal framework and public image were stable in 2019.
Representative of the USAID in Albania, Ms. Zhaneta Shatri in her welcoming note underscored the vital role CSOs in Albania demonstrated in the immediate response to the affected population by the earthquake and their mobilization during Covid-19 pandemic. Ms. Shatri concluded that USAID will further support CSOs initiatives and their work for the public good.
Invited panel members from Agency for the Support of Civil Society, Partners Albania, National Resource Center for CSOs, World Vision Albania, Eco Albania, BIRN etc., shared their perspectives on the trends in the sector and main development affecting CSOs sustainability. Their presentations, focusing on the challenges and setbacks to CSOs sustainability as well as success stories, generated participants' interest on the various dimensions of CSO sustainability. In addition, they provided very useful insights on the latest dynamics and development in the CSO sector that need to be considered in the process of CSOSI report preparation for 2020.
IDM has partnered with USAID, ICNL and FHI 360 to produce the CSOSI 2019 for Albania since 2010. Click below to download the CSOSI 2019 Albania Report & Factsheet in English and Albanian.