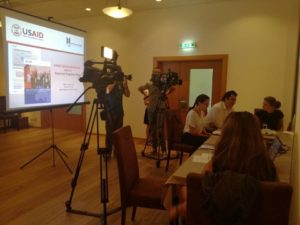 Institute for Democracy and Mediation (IDM) organized on 11 September 2017 the launching event of the findings of USAID CSO Sustainability Index 2016 for Albania at the premises of Hotel Rogner in Tirana. More than 30 participants from the civil society, donor community, state actors and media representatives came together to discuss about the trends in the sustainability of the sector.
Ms. Aleka Papa presented the report's findings for Albania. Ms. Papa noted the slight "improvement" in relation to the dimension of legal environment for 2016 with the adoption of legal initiatives related to volunteerism and social enterprises, while pointing to the "stagnation" in all other dimensions—and overall CSO sustainability since the last three years.
Mr. Gjergji Vurmo (Programme Director, IDM Albania) moderated the event. Present at the Panel Discussion with opening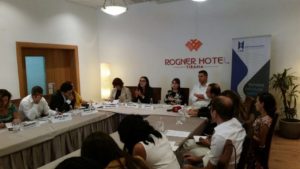 remarks were Ms. Elina Koçi, (Rule of Law Specialist at USAID Albania), Ms. Enkelejda Bregu (Programme Manager, Civil Society, Eurupean Union Delegation in Albania), and Mr. Erion Banushi (Head of Sector, "Development of Programs, International Cooperation at the Agency for Civil Society Support -ASCS). Panelists from civil society included Mr. Besmir Beja (Executive Director, Lex Ferenda), Mr. Myftar Doçi (Executive Director, ANTTARC) and Ms. Emanuela Zaimi (Foundation Down Syndrome Albania/Member of National Council of Civil Society) who elaborated their perspectives on the general concerns and way forward for the civic sector as regards the dimensions of legal environment, financial viability and service delivery, respectively.
The Index is developed by the US Agency for International Development in partnership with the local organizations of the countries included in the Index.
IDM has been entrusted the task to prepare the report for Albania since 2010.
For the English version of the CSO Sustainability Index visit https://www.usaid.gov/sites/default/files/documents/1866/CSOSI_Report_7-28-17.pdf