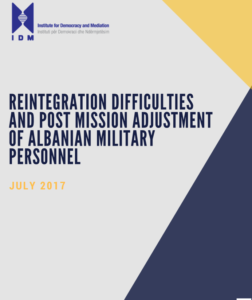 July 2017 – The purpose of this research is to bring this issue under the spotlight by informing relevant stakeholders on the gravity of this phenomenon and by identifying some of the drivers that enable military personnel to engage in criminal, extremist or violent behaviors. Furthermore, this paper is also an attempt to stimulate a constructive debate with relevant stakeholders on the possible implications and future solutions for the problem.
The research has focused on the use of prior academic literature to establish a baseline as well as infield research based on expert discussions, structured interviews and surveys, and primary sources, such as institutional documents.
 This project was supported through Think Tank Fund – Open Society Foundations grant. The views expressed in this study do not necessarily represent those of the Think Tank Fund – Open Society Foundations.