IDM discussing progress and enlargement with stakeholders in Berlin | 10-12 April 2019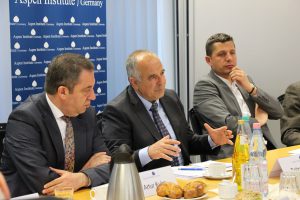 A three day visit of IDM senior representatives took place last week 10 – 12 April 16, 2019 in Berlin with the purpose to discuss Albania's reforms and prospects for accession negotiations with German decision makers and other stakeholders like Federal Foreign Office and the Chancellery. A number of meetings took place with members of the Bundestag – Christian Schmidt (rapporteur for Albania), Thomas Hacker (EU affairs Committee), Manuel Sarrazin, Renata Alt, and the senior advisor of the CDU/CSU parliamentary group Hans-Joachim Falenski.
The highlight of the visit was the Roundtable discussion "Albania and EU Accession Talks – Partnering with the Citizens' Quest for Democracy" (11 April 2019) organized by IDM in cooperation with Aspen Institute with state officials from German institutions, think tanks, media reporters, embassies of the Western Balkan countries and diplomatic missions of EU member states in Berlin. Speaking at the event, Sotiraq Hroni shared with the audience the current state of political developments in Albania, the progress of reforms over the past one year and the role Albanian civil society is playing to align the process with increasing public pressure for tangible results in rule of law.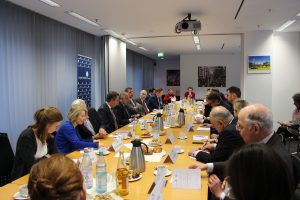 Ambassador Thomas Ossowski, Deputy Director General for European Affairs of the German Federal Foreign Office, emphasized the role of civil society as a strong partner of accession and reforming processes in acceding countries.
Lively discussion of participants followed Gjergji Vurmo's position on the role of civil society for rule of law and democracy.
For the Albanian ambassador Artur Kuko "it is particularly important to organize similar roundtable discussion also in other member states such as the Netherlands or France".
Bodo Weber, senior associate of the Democratization Policy Council highlighted a number of issues related to the enlargement process in the Western Balkans while other participants commented and expressed support to the prospects of opening of accession negotiations with Albania and Macedonia in 2019.