Kick-off of School as Community Center in Kamza
The first Steering Committee meeting and signing a Memorandum of Understanding, marked the start of the new project 'School as Community Center' in Kamza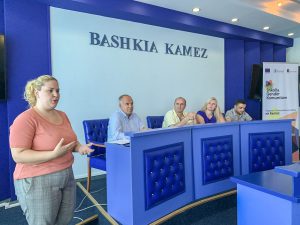 Tirana, 25 July 2019 – Today IDM organised the first meeting of the newly established Project Steering Committee in Kamza Municipality. This steering committee marked the first of many activities that will be organised within the framework of a new project "Empowering local communities through the model of School as a Community Center", that brings together the school, the municipality and the police. After a brief welcome and a short overview of the project's objectives and planning, there was an opportunity to discuss he needs for women and youth in Kamza with the staff of Ibrahim Rugova high school, the municipality representatives and the police representative. This discussion was followed by the signing of a Memorandum of Understanding, a clear sign of the shared commitment of local institutions to take concrete steps towards Youth and Women.
"Empowering local communities at preventing any form of violent extremism through multi-sectorial prevention measures" is a 12 month Project, financed by the European Union and managed by the International Center of Excellence Countering Violent Extremism HEDAYAH, that has started in July 2019.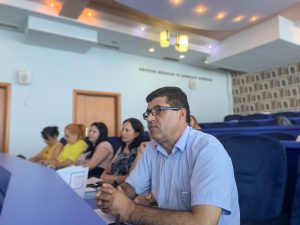 The Project is in close cooperation with Kamza Municipality, State Police and Local Educational office. The goal of the Project is raising the cooperation between local institutions to provide to Youth and Women the proper tools and skills to increase their possibilities of work, socio-economic perspective and the feeling of belonging in the community. The main objectives are:
With focus on the needs of "Ibrahim Rugova" high school and the community of teachers, students and parents, there is going to be raised collectively an inclusive and resilient model " School as a Community Center".
Vocational trainings for Youth and Women to increase their participation in the community and local institutions in Kamza.
Advocating activities which address the priorities of Youth and Women in local and national level.