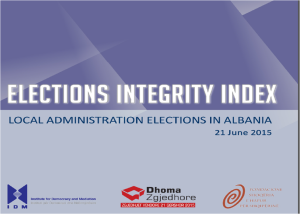 Election's Integrity Index (EII) is an assessment of the quality of elections by the Albanian Civil Society Organizations (CSO). The aim of the EII is to contribute to the improvement of the election in Albania and to strengthen the role of the civil society in the consolidation of the country's democracy. The CSOs increased their participation during the local elections of 21 June 2015 through a series of assessing, monitoring and advocating activities.
Thus, the CSOs assumed a greater responsibility and a greater role in their efforts to improve the election process and consolidate democracy in the country.
The EII assessed the local elections of the 21 June 2015 is based almost entirely on the reports produced by the Albanian CSOs that monitored the election.