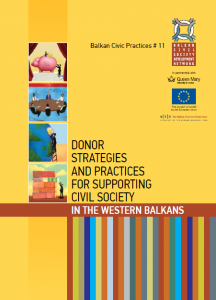 The report entitled "Donor strategies and practices for supporting civil society in the Western Balkans" is carried out by BCSDN in cooperation with Queen Mary University of London in 2014.
It provides an insight in the international donors' relation towards civil society in the Western Balkans, rationales and motivations for their presence, the mechanisms they employ in supporting CSOs, as well as the perception of civil society in the countries in this region and its value. Methodologically speaking, the report is based on 84 semi-structured face-to-face interviews with representatives of key international donors in the region and a quantitative study carried out in 2011, which identified the main donors and the approach adopted.
The report conducted between September 2013 and February 2014.
This research offers an overview of the country specific assistance available to civil society, together with modalities of its planning and ways of programming, where it is translated this document for Albania.
The full report is available for download at this link and click here for the report for Albania.