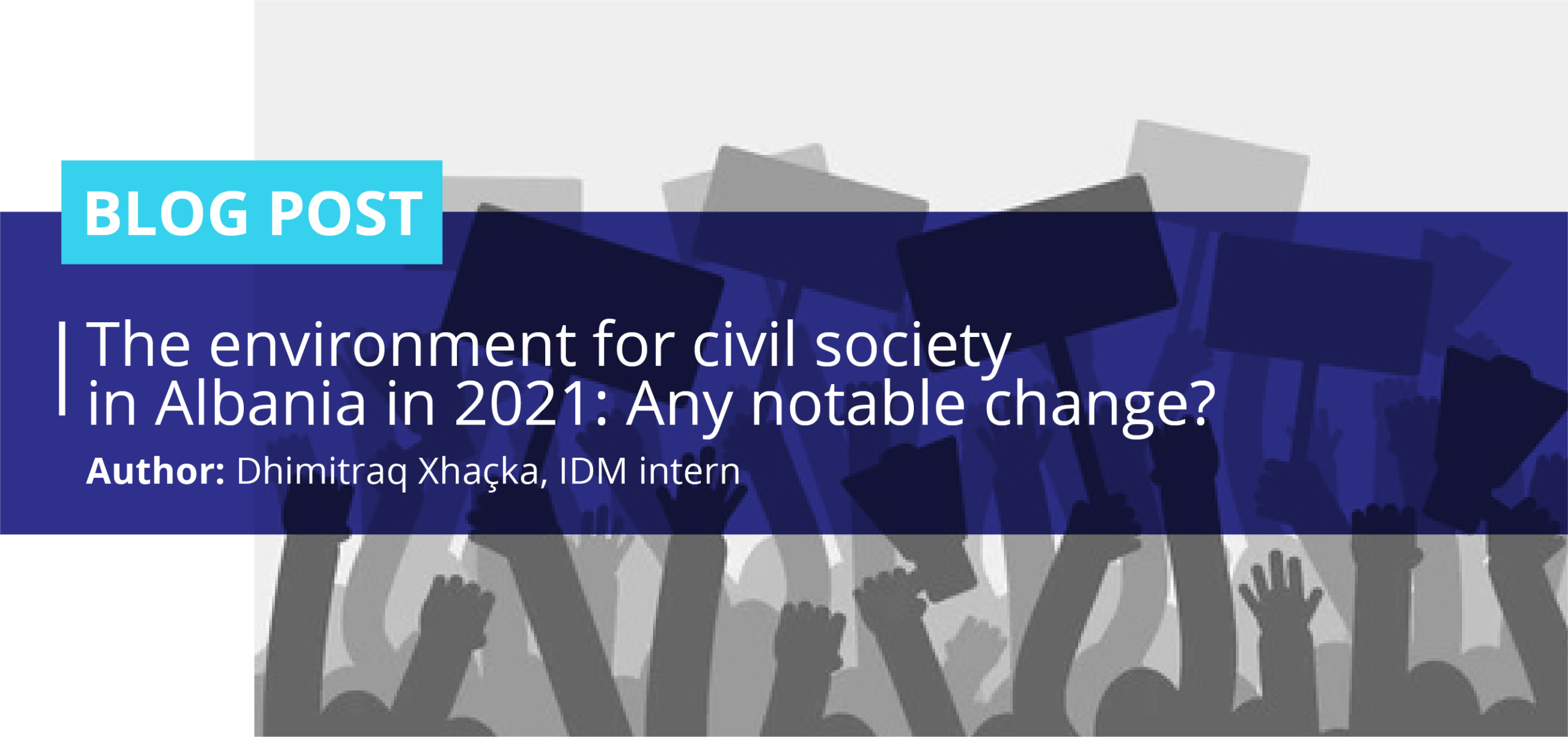 The environment for civil society in Albania in 2021: Any notable change?
By: Dhimitraq Xhaçka, IDM intern
In democratic countries, the role of civil society is essential in promoting good governance and accountability. Therefore, a strong civic space contributes to the consolidation of democracy and if progress in such direction is halted, shrinking civic space becomes a symptom of democratization backslide.
To assess the state of play for the civil society sector globally, an annual Civil Society Organizations Sustainability Index (CSOSI) is published by USAID. It aims to assess the status and development trends of civil society and to create a knowledge base for its strengthening, especially in countries with fragile democracies. In other words, the CSOSI serves as a reference document for addressing challenges ahead as well as for the development and consolidation of the sector. The assessment focuses on seven key dimensions of sustainability: legal environment, organizational capacity, financial viability, advocacy, service provision, sectoral infrastructure, and public image. The CSOSI findings regard a broad range of stakeholders including Civil Society Organizations (CSOs), activists and informal groups, governmental and independent institutions, media, the private sector, and development donors.
Concerning Albania, the 2021 CSOSI found that the overall sustainability of the civil society sector remained unchanged in 2021, although, there were slight deteriorations in the legal environment, advocacy, and public image dimensions. Meanwhile, financial viability organizational capacity, service provision, and sectorial infrastructure remained unchanged. It is worth mentioning that financial viability continues to be the weakest dimension of sustainability for CSOs in Albania, while advocacy, despite its slight deterioration in 2021, remains the strongest of all dimensions.
The decline in the legal environment was caused by several changes made to the legal framework affecting CSOs. The exclusion of CSOs' from consultations and the concerns raised on the newly amended Law on the Registration of Non-Profit Organizations, as well as the concerns on the establishment of the Agency for Media and Information, constitute some examples in this regard. Freedom of assembly, on the other hand, was often restricted, and in some cases even arbitrarily. Regarding the legal environment, Western Balkan countries seem to perform better than Albania, except for Serbia.
On a positive note, CSOs conducted advocacy on a wide range of issues during 2021 through strategic litigation, petitions, legislative initiatives, public campaigns, and other engagement tools such as the first national deliberative polling. The widely supported petition for the protection of the Vjosa river would be a good example of engagement. On the other hand, with 2021 being an election year, CSOs played an important role in monitoring the process and reporting violations. However, limited transparency, formal government consultations, and continued COVID-19 restrictions undermined CSOs' advocacy initiatives and their ability to influence public policy in recent years, resulting in a slight deterioration in the advocacy dimension. At the regional level, Albania scores higher regarding advocacy compared to other Western Balkans countries, while being exceeded by North Macedonia and Bosnia-Herzegovina.
The CSO sector's public image was another dimension that saw a slight deterioration in 2021. This was mainly a result of the ongoing attacks by the government and government-influenced media over the past few years. For instance, there were reports of vicious campaigns against activists, reporters, and civil society, marked by discriminatory language, misogyny, intimidation, threats, and even violence. On a positive note, the public still perceives CSOs as the fourth most trusted domestic institution in the country. On the other hand, the green movements that advocate for the protection of biodiversity and the active engagement of local communities that were affected by large infrastructure projects, also boosted the sector's image. At the regional level, Albania scores higher regarding CSOs' public image compared to other Western Balkans countries, being exceeded by Kosovo and Bosnia Herzegovina.
Unlike the three dimensions addressed above, financial viability, organizational capacity, service provision, and sectoral infrastructure remained unchanged in 2021.
As for organizational capacity, challenges such as lack of resources and infrastructure continued to affect especially the local, rural, and smaller organizations, while most resources remain channelled towards more experienced and consolidated CSOs located in the capital. CSOs lack access to core support and overall struggle with the sustainability of human resources, while being affected by brain drain as well, as every other sector. Their missions and strategic planning remain secondary to current donor priorities or agendas, and the raising dependence on one or a few donors leads them to focus only on activities of interest to that donor. Organizational challenges of CSOs were also impacted by the prolonged effects of the pandemic. Regarding organizational capacity, Albania performs better than other Western Balkans countries, while being at the same level as Kosovo and North Macedonia.
Moreover, CSO's service provision did not change either, compared to 2020. CSOs remained the main private providers of social services in the country and provided critical health, housing, psychological services, legal aid, and educational services, particularly to marginalized communities and those affected by COVID-19. Their services sometimes replaced or complemented state interventions. However, service provision remains heavily dependent on donor support while government support in this regard is insufficient and often difficult to access. At the Western Balkans level, Albania and North Macedonia are the best-performing countries when it comes to CSO service provision.
Similarly, the sectoral infrastructure supporting CSOs remained largely unchanged. The majority of the activities supporting the sector continued to be organized online, except for a few activities being held in person. On a positive note, CSOs had access to technical assistance, mentoring, training, and sub-granting schemes offered by different organizations. They built networks among themselves, as well as cooperated with informal groups of activists, the media, universities, and independent institutions. Cooperation between CSOs and the central government, the local government, or the private sector remained insufficient. At the Western Balkans level, the performance of Albania and Montenegro regarding sectoral infrastructure is lower compared to the other countries.
Finally, CSOs' financial viability remained the weakest dimension of sustainability, even though it did not see any significant change in 2021. The aftermath of the COVID-19 pandemic weakened the financial sustainability of the civil society sector which was already challenged due to Albania's unfavorable legal and fiscal framework. The lack of VAT refunds for grants is an example that continues to negatively affect CSOs' operations and activities. CSOs' financial viability seems to be similarly weak throughout the Western Balkans region, with Kosovo being the best-performing country.
In conclusion, the overall CSOs' sustainability in Albania seems to be weaker compared to other Western Balkans countries such as North Macedonia and Kosovo, but slightly better compared to Serbia, Bosnia-Herzegovina, and Montenegro.