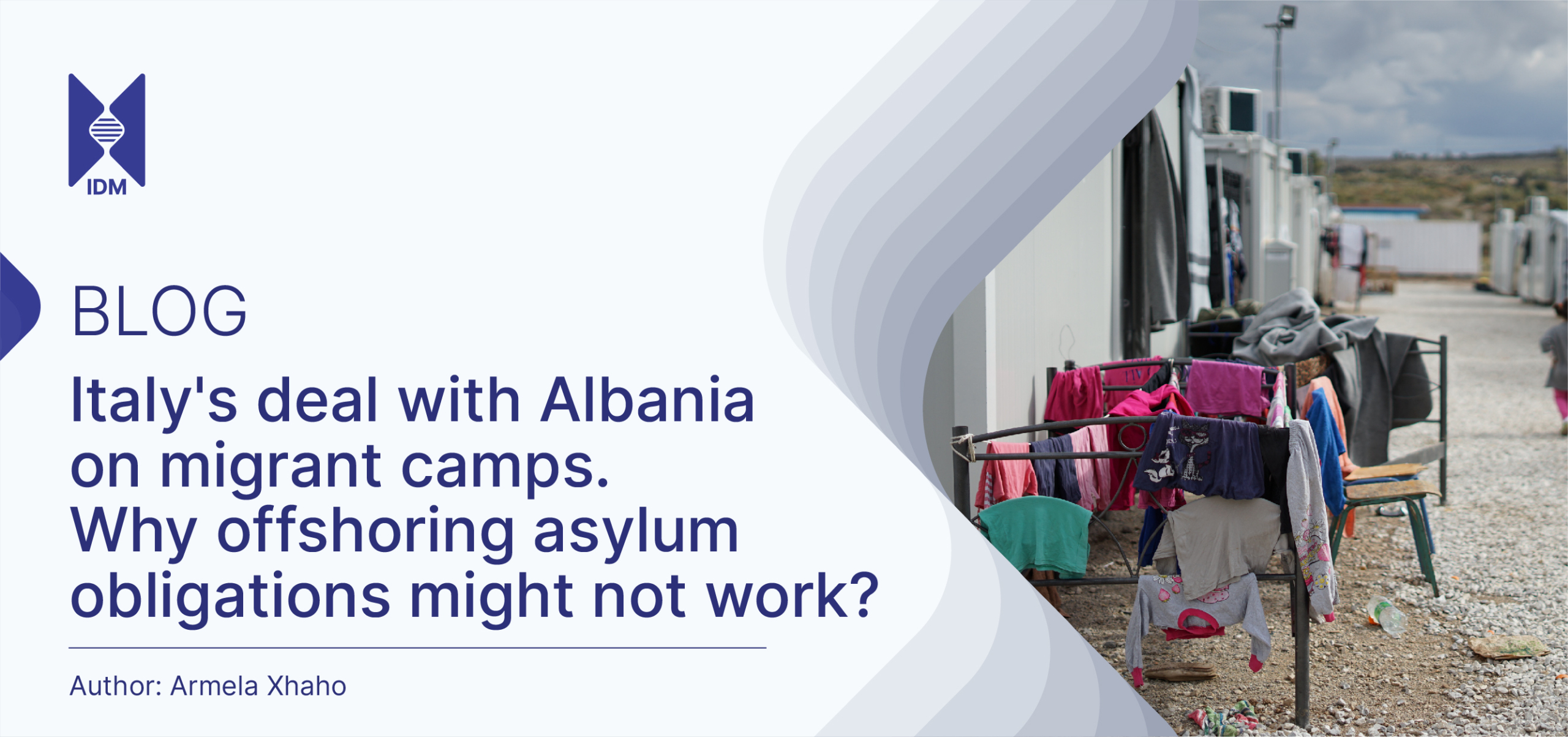 Italy's deal with Albania on migrant camps. Why offshoring asylum obligations might not work?
Author: Armela Xhaho
Italy plans to construct two migrant detention centers in the Albanian ports of Shengjin and Gjader to temporarily accommodate migrants trying to reach its shores. The first facility will be built to process migrants rescued by boats at sea and the second will be used to house migrants who qualify to apply for asylum in the EU.  While the camps will operate under Italian jurisdiction, Albania would also provide external security for the two centers. Facilities are supposed to open next spring and will initially take in 3,000 people. The Italian government hopes to scale up its capacity to process 36,000 migrants annually.  The initiative was announced after the Prime Mister of Italy, Giorgia Meloni met with Albanian Prime Minister Edi Rama. The scheme is the first agreement of its kind example of a non-EU country accepting migrants on behalf of an EU country.
While Albania has been widely recognized as an origin and transit country for irregular migrants, Italy is considered both a destination and transit country as well. More than 145,000 people have reached Italy's shores since January, compared with 88,000 people last year. Meloni's party is facing a growing domestic pressure as it has failed to keep the electoral promise to limit illegal migration. This agreement is an attempt to curb illegal flows of migrants in Italy and alleviate the burden of high influxes.
This agreement has fuelled controversial public debates and ongoing concerns that migrants might pose a threat to the national security. The rapid intensification of the security-driven discourses have spurred xenophobic sentiments among wider public. On the other hand, supporters of the agreement essentialize the notion of "human solidarity" which is being perceived as part of the Albanian long journey toward the Europeanisation process. However, human rights organisations have criticized the scheme and consider it as a violation of conventions and international law.
Indeed, the concrete application of this agreement is very controversial for serval reasons:
EU asylum law cannot be applied outside the EU. People rescued at sea by Italian authorities, including those seeking safety in Europe, are under Italian jurisdiction and cannot be taken to another country before their asylum request and individual circumstances have been examined. The plan would allow Italy to ignore the Dublin agreement, which states that the first country in which migrants arrive must care for them and process their cases. This can be considered a breach of the core principle of the Refugee Convention – that of non-refoulement.
Gender segregation is evident in the agreement, as it specifies hosting exclusively male migrants. Pregnant women, minors and other vulnerable people will not be sent to Albania. The potential consequence of this segregation is uncertain, as it's unclear whether adult men could be separated from their families. According to the international law, procedures should not separate the families. The high number of men that are supposed to be hosted in these facilities have already created an outburst of fear and xenophobia among local population, which is unprepared to host such a high number of migrants. Advance notification should be provided to inform the local population.
The agreement does not outline how irregular migrants will be repatriated, which is often a long and difficult process. Repatriating individuals who are not eligible for asylum is challenging due to the absence of formal return agreements with the home countries of migrants.Italy should have readmission agreement with African countries, to turn back those who can not get the asylum status. So far, Italy has repatriated around 4,000 people, while more than 145,000 arrived by sea on its shore. It is supposed that the cases will be examined within 28 days, but the procedures can last longer.
Detention of people who fledge to seek safety from war, famine and other strife in a third country represent a new attack on the right to asylum, as closed regimes / detention centres are not allowed. These people should be free according to the international law, and detention in closed regime is an abuse to the international law. Conversely, concerns about insufficient oversight have also been brought up. If these individuals have the freedom to move in the territory of Albania, they should be carefully monitored, but this might be quite challenging for state police to effectively monitor their activities within the country.
Significant questions arise regarding the implementation of Italian jurisdiction in Albania, as it is not clear how individuals in transit can access asylum and exercise their fundamental rights in a non-EU territory. The management and procedures should follow Italian procedures/ laws, but this is not allowed. It is impossible to apply in the territory of Albania a foreign law. What about if a crime or human right violation happens? Whose law should be applied : the foreign law or the domestic law?
The initiative lacks transparency and has not undergone a thorough consultation process. An agreement with significant social ramifications was drafted without seeking broad input or consultation. The agreement must receive parliamentary approval before it becomes effective, and it should undergo a legal process involving drafting and consultation with both institutional and international partners.
Nevertheless, similar to Italy, other countries that have faced a growing influx of asylum seekers and other illegal immigrants such as, Israel, Denmark, Australia, UK etc have tried to put in place offshore detention centres in order to resolve the problem by striking deals with third country "safe havens". Some of these deals have been rejected or challenged in court due to violation of human rights. Likewise, the practice of offshoring migrants to be processed in Albania raises numerous questions and skepticism regarding the risk of violation of conventions and international law.
References
https://www.euractiv.com/section/justice-home-affairs/opinion/why-are-we-not-reforming-the-dublin-regulation-yet/
https://edition.cnn.com/2023/11/07/europe/italy-albania-migrant-refugee-deal/index.html
https://www.reuters.com/world/europe/italys-migrant-deal-with-albania-faces-rights-hurdles-red-tape-2023-11-07/
https://www.dw.com/en/italy-to-send-migrants-to-reception-centers-in-albania/a-67323829