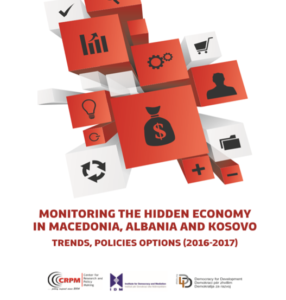 This monitoring report provides an overview of hidden economy in general, and undeclared labor and tax evasion in particular, in Macedonia, Albania and Kosovo including its main causes and consequences. Additionally it offers a macroeconomic overview of the main characteristics considered to incentivize and maintain the hidden economy, while at the same time providing context in the form of processed survey data (of the general population and businesses) that also grasps the perceptions surrounding this very important issue. Furthermore, it delivers an outline of where this phenomenon might be headed, how these three countries compare and what measures should be taken to tackle it.
The data presented below are based on three methodologically identical population surveys, representative regionally and demographically, conducted in May and June 2016 in Macedonia (1097 participants), Albania (1102 participants) and Kosovo (1100 participants).
The methodology developed for calculating the hidden economy index is based on the specific population and business surveys has been developed by the Center for the Study of Democracy – Bulgaria and was implemented by CRPM in Macedonia, IDM in Albania and D4D in Kosovo.