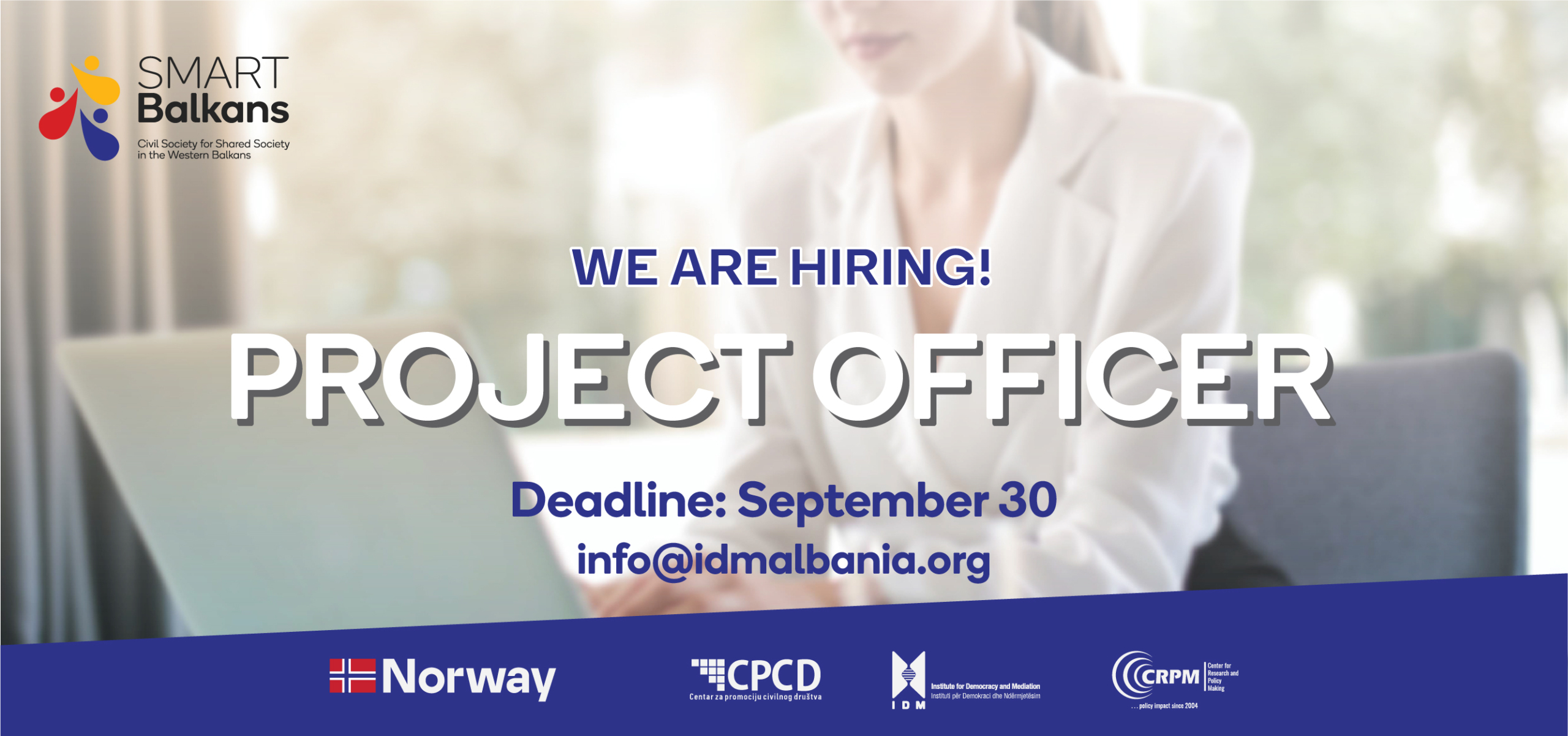 We are hiring!
PROJECT OFFICER – SMART Balkans Project
Deadline 30 September 2023
 IDM is looking for qualified candidates to fill the position of Project Officer of the project 'Smart Balkans – Civil Society for Shared Society in the Western Balkans', funded by the Norwegian Ministry of Foreign Affairs.
About IDM
Established in Tirana in 1999, the Institute for Democracy and Mediation (IDM) is dedicated to consolidating participatory governance and democratic institutions, EU integration processes, civil society development, regional cooperation and security through independent research, capacity building, and engagement of societal players. IDM generates knowledge and expertise for inclusive policy making, evidence-based alternatives to bolster democracy and sustainable development.
Starting as a relatively small organization in the first years, from 2005 onwards IDM has increasingly developed as a think tank organization actively contributing to reforms and development processes in five key areas – Governance and public integrity; Security Sector Reform; EU accession process; Local governance and integrated development; and Civic space.
IDM carries on its objectives through expertise, policy analysis, applied research, as well as through building capacities of key societal actors, and developing partnerships for policy alternatives. Our choice of activities to achieve IDM strategic objectives is an effort to go beyond one-time delivery projects. They form part of a continuing struggle to strengthen shared values and efficient interactions across the broad spectrum of political and non-political actors in Albania.
Background of the Project
SMART Balkans – Civil Society for shared society in the Western Balkans is a four-year project implemented in the six countries of the Western Balkans, funded by the Norwegian Ministry of Foreign Affairs. The Project aims to contribute towards strengthening participatory democracies and Euro Atlantic integrations in the Western Balkans by empowering civil society organizations and CSO networks for stronger and active role in creating peaceful and inclusive societies for sustainable development in Albania, Bosnia and Herzegovina, Kosovo, Montenegro, North Macedonia and Serbia. The project's objective contributes to the realization of the Sustainable Development Goal 16: Promote peaceful and inclusive societies for sustainable development, provide access to justice for all and build effective, accountable and inclusive institutions at all levels.
The envisaged activities target CSOs and CSO Networks, citizens, media outlets and governments to deliver stronger, more sustainable, and vibrant CSOs in the six countries of the Western Balkans region; strong regional partnerships between civil society organizations from the region of the Western Balkans themselves and with their EU counterparts and public authorities; increased effectiveness of citizen influencing change through CSOs that advances Security and Stability and Governance in the Western Balkans region as well as increased awareness of general public on importance of active participation of civil society in major development initiatives in the region of Western Balkans
The project is implemented by consortium of organizations: Centar za promociju civilnog drustva (CPCD) from Bosnia and Herzegovina, in partnership with Institute for Democracy and Mediation (IDM, Albania) and Center for Research and Policy Making (CRPM, Macedonia).
Objective of the assignment
The Project Officer is required to provide a full range of project management tasks for the SMART Balkans Project. He/she undertakes project planning and implementation activities, provides support to the Project Coordinator, and coordinates with SMART Balkans Project lead partner on communication and other administrative tasks. The working position also involves other tasks regarding reporting and implementation of project's activities.
Main tasks of Project Officer
Under the guidance of the Project Coordinator, the Project Officer will be responsible for the following main tasks:
Support in the achievement of project objectives including the responsibilities of general management and Project administration to constantly improve the efficient implementation of the project activities;
Draft routine correspondence and communication with project partners, institutional stakeholders and other relevant counterparts;
Provide support in procurement processes for goods and services or other procurement actions foreseen in the project;
Monitor project implementation and agreements with grantees;
Support the timely preparation of progress reports and any other required project reports;
Prepare documents and presentations as input to various organizational processes;
Undertake a record keeping system in line with project coordinator guidelines;
Participate in project partners' meetings, conferences, study visits, and workshops in Albania, Kosovo and other WB countries when required;
Support the implementation of project monitoring tools;
Support communication and visibility of the project in different communication channels;
Perform any other duties related to the implementation of the project.
Qualifications:
Education and Experience
University degree in communication, political science, social science or related areas. A minimum of 3 years' experience in project's implementation and management;
Previous experience with civil society development, good governance, security and stability programs;
Excellent verbal and written command of English including the ability of preparing official documents and reports;
Knowledge of civil society sector in Albania and Kosovo will be considered an asset.
Skills and abilities
Excellent interpersonal and communication skills;
Organizational and analytical skills;
Ability to work effectively with colleagues from different cultural and professional backgrounds;
Enthusiasm and commitment to the mission of the IDM.
What IDM can offer
We offer full-time employment for 1 year. The contract includes a probationary period of three months and is renewable every year with an extension to three years.  The salary will be in accordance with your previous experience as well as the IDM salary scale.
We would like the preferred candidate to join the IDM Team during October 2023.
Application and deadline
Please send your application, including your curriculum vitae and cover letter expressing your interest and suitability for the position. In addition, list at least two references, including their name, job title, organization/institution, and contact information, who can attest to your qualifications to perform the job you are applying for.
Please send your application to [email protected] by 30 September 2023 with 'Project Officer' in the subject line.
NB. Only shortlisted candidates will be contacted for an interview.